Post Malone Tries To Sell His Own Album For Half Price While Undercover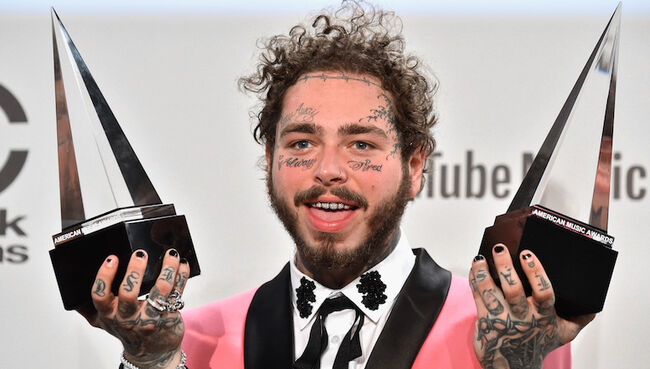 Post Malone transforming into a neighborhood record store employee might be the greatest video you watch all day.
The "Better Now" rapper went undercover to promote his new partnership with Omaze, an online fundraising platform, who is helping him give away a Bentley to one lucky fan. (I'll get to how you can get in on that in a bit)
Dressed in a white button down and his crispiest khaki pants, Post trolled record store employees as he discussed his aspirations of becoming a rapper, ripped his own music, and, of course, got caught reprimanded on the job.
"Have you heard of this guy, Post Malone or whatever?" the "Rockstar" rapper asked an unsuspecting record store customer. "He sucks...Trash." Posty continued trolling his music when he asked another customer if she wanted his Stoney album for a discount price. "You want to buy this because we're trying to get rid of it because it sucks. I'll give it to you half-off... It's so bad," he said.
Later in the video, Post pretended to be an aspiring rapper and asked an older gentleman to read some of his lyrics, aloud. After the customer read just a few bars of Post's "Rockstar" lyrics, the gentleman told the 23-year-old rapper he "needs more Jesus." The video ended with Post getting suggestions for a new rap name, and revealing his identity to a young fan.
To enter to win the free Bentley, which includes a trip to LA and joyride with Post) all you have to do is donate $10 or more to Fold of Honor, a nonprofit organization that provided educational scholarships to spouses and children of America's fallen and disabled service-members.
Photo: Getty Images